What to consider when buying an apartment in Berlin
Advice for your consideration
Are you considering buying an apartment in Berlin? Maybe you are planning to move to the city or maybe you have already arrived? Are you thinking about ways in which you can best invest your hard-earned money? Or maybe you are looking for ways to lower your tax burden?
If you are wondering whether the hype surrounding Berlin is still strong enough to make real estate investments worth it, then this article might be of interest to you. In this GLOBALS Homes series, we will raise and answer many questions regarding purchasing real estate in Berlin. We will walk you through the pros and cons of buying, showing you aspects you might want to consider before making your decision. 
In any case, your decision is an individual one—situations vary, backgrounds differ, and what might be a very expensive apartment to one individual can still be within the means of another. It all depends on the circumstances. The intention of this series is to show you a broad spectrum of factors that may influence your decision when it comes to purchasing your property. But, in the end, it is you—and only you—who makes the final call.
"Triple L"
So let's get started with our first article which is dealing with the most important aspect that every real estate agent will tell you to consider when it comes to purchasing a property—the "Triple L". No, I am not referring to live…laugh…love, ideally, you will be doing that, once you've made your choice. But when selecting your new home you should consider the "Triple L" which is: location, location, and (you guessed it) location.
But how do you know if a location is a premium? What defines a good location? Sure, the real estate agent will tell you anything and even make a place on the edge of the city seem premium. Check out also our post on How to avoid real estate scams?
And it might be because every city has its own unique dynamic and where, in one city, the center is the hotspot while, in another, it could be the city boundary beside the lake that everyone is flocking to. And guess what. Berlin has it all! So the "Triple L" in Berlin is complex—in a good way—as it provides many opportunities for prospective buyers to settle.
That being said, we must keep in mind that we are talking about buying a property in Berlin; the most populated city in Germany with more than 3,7 Mio inhabitants, thousands of companies offering jobs including a persistently growing startup scene where even fancier jobs are emerging. There are also four public universities where, as you know,  students attend for free. Plus, more than 20 private universities for those who can afford it. 
Additionally, Berlin is the capital of Germany so the city is packed with administrative buildings including the "Bundestag" and various embassies with thousands of politicians, lobbyists, and consultants. It is the place for governmental and non-governmental organizations, TV stations, press dependencies—basically everything you need to manage a country. It is the place to be.
Sure, the city is not what we would call an industrial stronghold, as the area around Cologne and Düsseldorf, or the wealthy south with its manufacturers in Stuttgart and Munich. But Berlin not only found its niche in creativity, culture, and tourism but also, biotech and health care.
So looking for a property in Berlin is per se a good idea, but the city is big and you need to be careful when choosing the area of your future place.
So let's dive deeper into the city and create some understanding around its 12 districts.
Founded in 1237 Berlin has a long history of growth, destruction, separation, and unification. Check Wikipedia if you are looking for Berlin's history of origins. 
What has most certainly characterized the city which can still be observed today is the physical memories of Berlin's separation post-World War II. With a wall separating the city between East and West Berlin that stood for nearly 30 years, two very different urban identities formed on each side of the barrier.
Along with this, two city centers arose: Kuh'damm and Alexanderplatz. And, in the years following reunification, the former border areas of the East/West separation that were once desolate experienced a strong construction boom. Potsdamer Platz, for example, is a result of this boom.
In the last 30 years, it has become one of the city's most active corporate neighborhoods being that it is filled with thousands of office spaces as well as tons of flats, restaurants, and shops. Other new happening neighborhoods include Europa City (located north of the Hauptbahnhof), Friedrichstraße (Mitte), and Hackescher Markt (near Alexanderplatz).
Besides these urban centers which are international and one might say, also anonymous you will also find what we call "Kiez", neighborhoods, each with its own atmosphere which is characterized by its residents and their social backgrounds. Google Bergmannkiez, Helmholtzkiez, or Sprengelkiez, and you will find little towns within the city with historic buildings, shops, restaurants, and parks. 
While all these centric areas in Berlin are inhabited by a considerably international population,  you will find yourself more and more surrounded by German neighbors the more you move to the city borders.
The strong population growth of the last few years has even intensified this distribution. Critics of this development say that the old population of Berlin is being pushed out of the city and Berlin is losing its "poor but sexy" image. And that is true if you look on the market.
After the reunification of Berlin in 1989, prices were comparatively low but have been rising ever since, especially the last 10 years. That of course also had an impact on the rental market, so people that used to be able to afford nice flats in central areas were soon forced to move out. One can say that this is the ugly face of capitalism and there are many initiatives by the city government to secure and provide affordable living space for people with a lower income.
On the other hand, it is a given fact, that in big cities like London, Paris, New York, etc. and most liveable ones it is almost impossible to live in a popular neighborhood on a small budget. Berlin is no exception. 
The value of your property is essentially defined by its location. So, when analyzing potential properties, have a look at the neighborhood and its image.  Take your time to stroll through different areas and feel the different vibes that each "Kiez" is sending to you.
Another determining factor is the infrastructure around your place. The proximity to public transportation, shopping possibilities, schools, and recreation areas are important not only to you but also to future tenants and buyers and make the place more attractive.
Also, have a look at the population structure, average age, social structure, and criminality. Depending on your situation you might prefer a solid Charlottenburg or you want to go wild in Neuköln with its exciting, yet at times chaotic, street life. 
Every area has its demands and therefore a price. To give you an indication, you can see the average price per square meter for a newly built 80 square meter/3 room apartment in each area on the picture.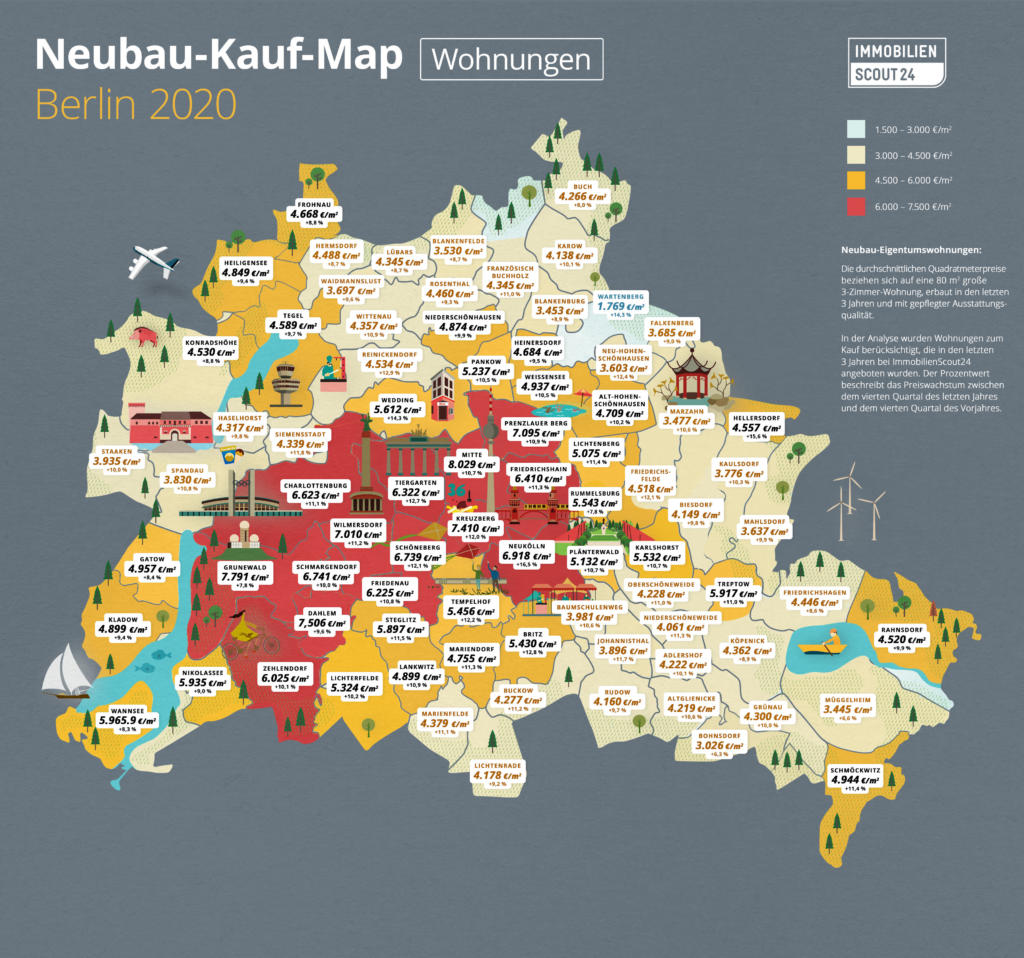 So, before making your choice, immerse yourself in the city. Feel its different atmospheres, get lost in its beauty and fall in love with your "Kiez".
Once you have decided on a location, you should consider another aspect – time. Is now a good time to buy? We'll look into that aspect in our next article.