Moving to Berlin can be stressful when you don't speak German and need to register your address with the city. Here you will find everything you need to know about the registration "anmeldung" in Berlin.
does it apply to me?
If your situation is one of the following, you need to register.
Moving to another appartment in Berlin
Moving from another city in Germany to Berlin
Moving from abroad to Berlin
should I register?
This registration is needed for most of the administrative thing you will have to do here such as opening a bank account, paying your taxes etc.
Not registering your address is illegal and you can get a fine for it. Not the most noteworthy thing you will do in Berlin for sure but mandatory and easy to do when you know how it works.
do I need?
To avoid having to go back several times to the Burger office, come prepared with everything they ask. Here is a checklist of what you need:
❐ Proof of identity (passport, ID, visa if you need one) Note: check if they are still valid!
❐ Rental agreement (a sort of letter that your landlord gives you to prove that you are staying as a tenant in their apartment) The legal format can be found here.
❐ Civil status certificate if it is the fist time you register (certificate of marriage, birth certificate)
❐ Anmeldung Form (most important document and hardest to fill when you don't understand German) help over there 👉
is the Anmeldung Formular?
This form will be mandatory for your life here in Berlin. To fulfill it, we created a chatbot, AiRelo, which asks you questions in 10 languages what you can choose, and delivers the form as a pdf in German. You just have to print it and bring it with you to the burgeramt and that's it!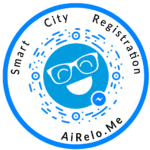 to register?
To register you need to go to the burger office wich is the equivalent to the city hall but for every district part of Berlin. You need to take an appointment to go there to avoid a waiting time up to 3 hours and more. You can also decide to go without any appointment and take a ticket with a number and wait. Once your number is called you go to a room where they will ask you your proof of identity, confirmation of arrival by your landlord and the anmeldung form.
At the end they will give you a paper wich look like the picture below, do not lose it it is important for your taxes, opening a bank account, your German health insurance etc.
to take an appointment?
Taking an appointment is the best way to save time during the registration process. You can pick among one of the 40 burgeramt and choose one in the district you live in is not mandatory so you can choose the one which is the most convenient for you!
Here is the link to take an appointment "termin" in German. Tips: if you don't see any slots available that suits you refresh the page a few times and most of the time a new slot will appear.
Abstract
Keeping the concept of the introduction the same, different documents have different styles to introduce the written text.
Preface
If a Userguide is written, the introduction is about the product. In a report, the introduction gives a summary about the report contents.