Do we team up for global networking?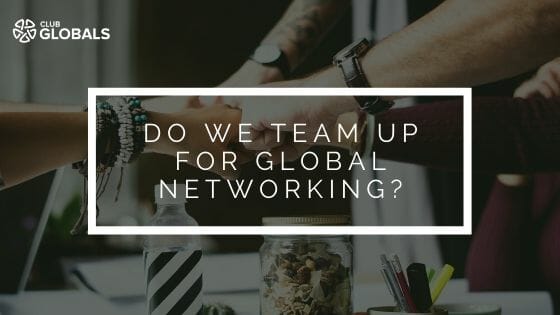 About us
GLOBALS was founded with the mission of making international life easier. It includes  GLOBALS' services,  AiRelo, a smart city- registration assistant with a multi-city bot builder platform, and Club GLOBALS community, a marketplace with a curated directory and events. We alseo manage GLOBALS.tv for innovation, entrepreneurship an international life videos.
Our vision is to become the welcoming go-to community of global entrepreneurs. Which provides advice, connections and a trust based network as well as a marketplace that brings members and Solutioners together. Perfect for high-level professionals and entrepreneurs that recently relocated to a new city as well as every internationally minded person is invited to join.
Our events are unique gatherings to build and prosper that community. We produce pleasant events filled with sparkling speakers, thought-provoking panel discussions and stimulating conversation and networking. For that, Club GLOBALS Event`s goal is to spark conversation, connection and community on one hand. To make it happen we need volunteers, interns and partners to make it happen.
If you are here it's because you are passionate about Marketing and would like to connect with a large international community.
Work with us
As part of the marketing and community management team you will have to develop diverse tasks, but don't worry no one is born with this knowledge, so we will assists you in everything you need and in this guide you will also learn how to use the tools that we use the most.
Being a Club GLOBALS team member can be an extraordinary experience. We licence you as a Club GLOBALS member as a volunteer, we are vesting in you a piece of our vision. That means it is your reposibility to make sure the vision and mission of Club GLOBALS events is protected and celebrated. 
Making our audience happy is essential for a successful event. But the devil is in the details, from the moment your guests receive invitations, to the minute they walk out of the event, they should feel like they're experiencing something significant. Think of your audience's needs every step of the way.
Your responsibilities:
Content creation: Writing posts, articles, newsletters, and other communication material

Social media marketing: Creating, managing and growing the company's presence through blogs, twitter, facebook, and other strategically relevant online platforms

Events management and planning

Communications/marketing strategy: Assist us to create a better communication plan/campaign to increase our online community

Give support in most urgent tasks

Partnering, using strategies to get more partners for AiRelo and Club GLOBALS.
Your benefits: 
Join a globally oriented team that speaks multiple languages 

Performance based results are more valued than presence in the office 

Your own ideas and drive are highly acknowledged 

Get exposure to a huge network 

Learning on the job in: Sales and Marketing, Project Management, Event Management, Networking, Negotiation, Social Media Strategy, Business Development 

Join a central & well connected office in the center of Berlin