Tag Archive for: internship
Welcome to the team Sharifa! Hello everyone, I'm pleased to introduce myself as the newest member of the Club...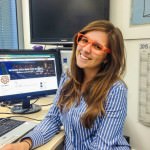 , Club GLOBALS Team / Jobs, Expat Guide & Tips, Premium Content, Thoughts, berlin, community, community management, digital marketing, expats, Germany, instagram, internship, marketing, photography, photos, social media, technology, Travel, 0
Hi Everyone!  My name is Isabella, my hometown is Caracas, Venezuela, and my current home is Berlin, since...