Germany boasts a highly praised and well rounded health insurance system that is essentially comprised of three different parts. There is the Public Health Insurance System (GKV), the Private (PKV) and the Expat Health Insurance System. To qualify for either of the three options, you have to meet certain requirements. These can be anything from your visa status,  your job situation, as well as the amount of money you earn.
Regardless, health insurance is absolutely mandatory for all residents of Germany. 
Figuring out your best option is an important task! We've put together an article highlighting some of the best insurance options within Germany.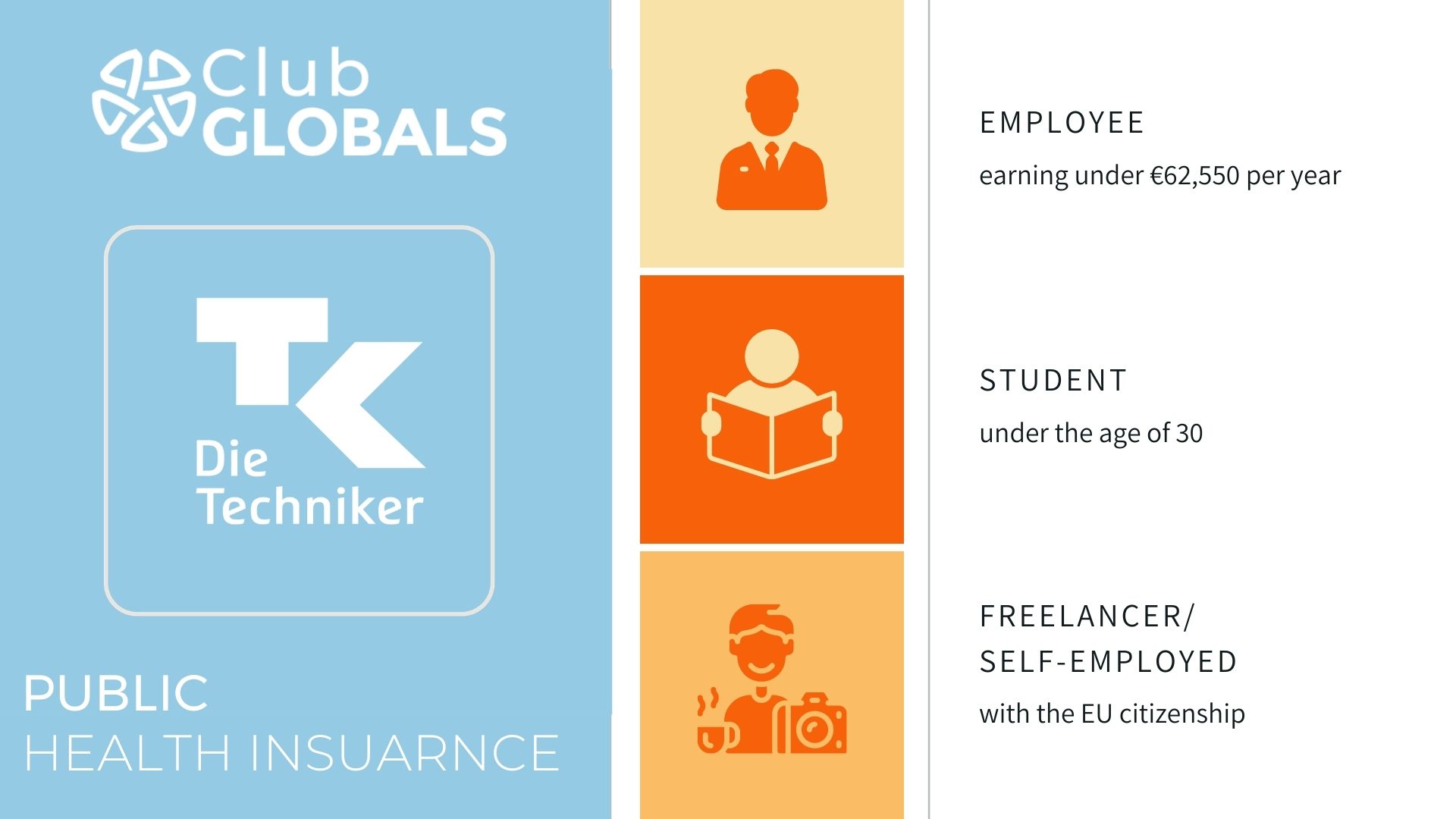 Public Health Insurance
If you are a regular employee earning under €62,550 per year, a student under the age of 30, or an EU citizen that is a freelancer/self-employed then we strongly recommend TK as your health insurance provider.
TK is regularly awarded as the No. 1 healthcare provider in Germany and it is clear why.
A quick, online sign-up process can get you insured within two days. All service and documentation is performed completely in English. And most importantly, it meets all the requirements for a Work Visa, EU Blue Card and the Student Visa.
Students benefit from a reduced price and can expect to pay roughly around €105 euros per month depending on their age. Employees can expect the standard 14.6% of their salary, with half paid by the employer.
Use our sign-up link and get insured today!
For those looking for an alternative, check out Barmers as an equally high-quality provider in Public Health Insurance.
Private Health Insurance
For employees earning a high salary and for freelancers failing to qualify for Public Health Insurance, Private Health Insurance is also a great option to consider.
Ottonova doubles as a private health insurance provider, meeting all the requirements for a Freenlance Visa and providing full support in English 24/7.
Feather's also has a brokerage service where they play matchmaker with you and a trusted Private Health provider.
In both cases, the cost will be dependent on your overall risk profile in respect to your health. Factors such as how old you are or any existing health conditions.
Expat Health Insurance
Those just recently moved to Germany as a Job Seeker, a Working-Holidayer, Non-EU Citizens who are freelancers/self-employed, MiniJob employees, and German-Language school students do not qualify for the Public Health Insurance system. This leaves Expat Health Insurance as the best option.
Feather's is an extremely affordable option that meets all visa requirements while providing a high standard of medical care. Everything is also done in English, making it the perfect choice! The monthly fee comes out to just about €70 a month.
Other up-to-standard options to consider are Ottonova and Foyers.
Need Help?
Choosing a suitable insurance provider in Germany is an important choice! It can be overwhelming at times, so feel free to contact us with any questions or consultation needed.