The 2018 FIFA World Cup has just kicked off in Russia last week. Where will you be watching the Cup? Whether you live in Berlin or are visiting the football-crazed city, you don't want to miss a match. Check out our suggestions for the best places to join the sea of black, red, and gold!
Beer gardens are family-friendly for daytime games.  The atmosphere is great, especially when goals are kicked or penalties won. The city is also packed with pubs and sports bars that will definitely be screening all the games. However, the largest crowds of football fans can be found at the 'Fanmiele' near Brandenburger Tor.
Photo Credit: ITNews24Hrs Thailand / Flickr
Fanmeile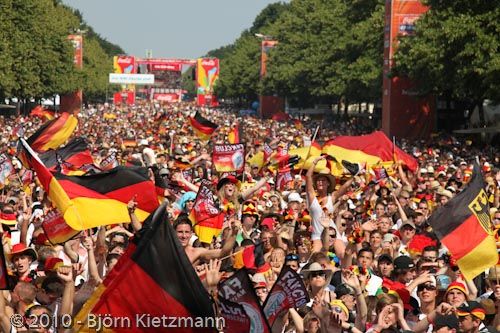 Between Brandenburg Gate and the Siegessäule/ Victory Column.
The largest fan fest public viewing in Berlin is always held along Strasse Der 17. Juli in Tiergarten. The two kilometers of space is filled with several huge screens to watch the match, as well as loads of places to buy beer and food!
Join the Fan Mile and watch a public screening of the World Cup at the Brandenburg Gate. Thousands of fans will gather in the heart of Berlin to watch a live broadcast of the Cup. If you want to be a part of the fanatic atmosphere, go to the Fanmeile!
Entrances to Fanmiele are at Großer Stern/ Victory Column, Spreeweg/ John-Foster-Dulles-Allee, Scheidemannstraße/ Yitzhak-Rabin-Straße, Bellevueallee south of Straße des 17. Juni, Ebertstraße north of Brandenburg Gate, and Elbertstraße south of Brandenburg Gate.
Haubentaucher
Location: Haubentaucher, Revaler Straße 99, Berlin-Friedrichshain directly on the RAW-Gelände
Want to watch the World Cup whilst lounging by the pool and enjoying the sunny weather? There's no better place for this than Haubentaucher! The location is really easy to reach, as it's located just a couple of minutes walking distance from Warschauer Straße. Admission is also free and there are opportunities to buy drinks and to take a dip in the pool.
Prater Garten
Kastanienallee 7-9, 10435 Berlin
Photo Credit: Meishka Z. / Yelp
What's better than a Biergarten on a summer day? Answer: Watching the World Cup at Prater Garten in Prenzlauer Berg. Beer gardens will be filled with devoted football fans, oversized screens, and beer. Grab yourself a 2 liter stein, wurst, and enjoy the Cup at Berlin's oldest beer garden! Make sure to arrive in good time as Prater only has 600 seats, and is sure to be a popular venue for Berliners.
Belushi's Bar Berlin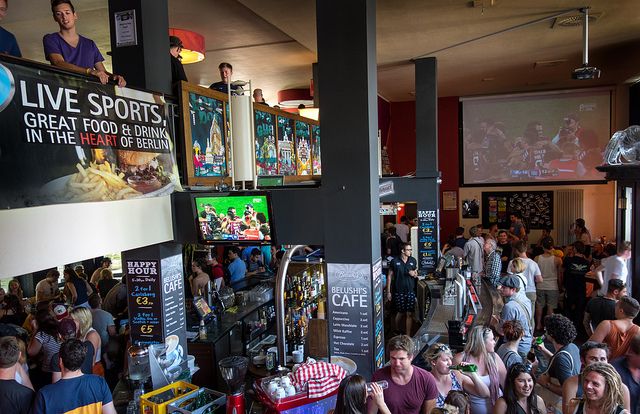 Rosa-Luxemburg-Straße 41, 10178 Berlin
Photo Credit: Mikelsewhere / Flickr
Looking for a sports bar with alcohol from around the world and delicious food? Check out Belushi's, located in Mitte. The widescreen TVs and projector offer you a front row seat of the Cup! The bar is a popular location for travelers from all around the world who are keen to watch the game!
Hotel AMANO
Auguststraße 43, Ecke Rosenthaler Straße, 10119 Berlin
Photo Credit: Hotel AMANO Facebook
Watch the World Cup in style at the luxurious Hotel AMANO, located in Mitte. AMANO Garden Lounge will be hosting a public viewing of the Cup in the beautiful courtyard. Indulge in snacks and ice-cold beer from Pizza Mario, located within the hotel complex.
Irish Harp Pub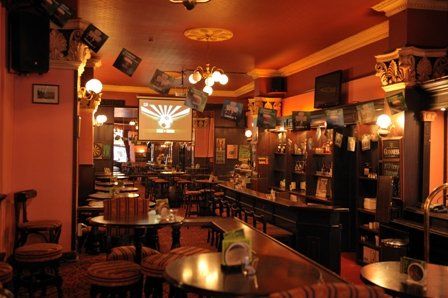 Giesebrechtstraße 15, 10629 Berlin
Photo credit: Qype User / Yelp
Grab a Guinness and cheer on your favorite football team at Irish Harp Pub! The Irish pub offers Irish and German beer, food, and live entertainment. Come to Charlottenburg and pop in this Irish haven to watch the Cup.
WM Beach Arena
Located inside METAXA BAY, Invalidenstraße 78 – 10557
Photocredit: WM Beach Arena Facebook
Lounge on a chair and squish your toes in the sand while watching the World Cup! If you prefer a relaxed setting, watch a match at WM Beach Arena in Tiergarten. Enjoy the laidback atmosphere with a drink in one hand and your favorite team's flag in the other hand.
Berliner Fernsehturm/ TV Tower
Location: Panoramastraße 1a, Mitte
Perhaps the most spectacular place to watch the World Cup has to be the TV Tower located on Alexanderplatz! All games will be shown on both the observation deck at 203 meters and in the Sphere revolving restaurant at 207 meters. Whilst watching the game and enjoying the incredible view of Berlin, the restaurant is offering international specialities and cocktails at the Bar 203. It is recommended to book restaurant tickets or Fast View tickets in advance, to avoid long waiting times with the ordinary view tickets.
FloorFive at the Sony Center
https://www.facebook.com/pg/floorfiveberlin/events/
Location: FloorFive, Potsdamer Str., 10785 Berlin.
Looking for somewhere more exclusive to watch the World Cup? Alitania GmbH offers closed viewings at their Diplomats Club at FloorFive, Potsdamer Str., 10785 Berlin. There is also the opportunity to rent selected apartments on the 6th floor of this building for closed circles.
Where is your favorite location to watch the 2018 FIFA World Cup?