Urban areas have always been a challenge for local governments. This is primarily due to the population increasing at a quicker rate than the quality of services the city can provide. Therefore, thanks to the implementation of numerous technologies, cities have managed to provide solutions to its population in real time. But how?
If you live in a technology-focused metropolis like Berlin, New York or LA, you've probably come across the term "Smart City" numerous times in the past few years. It sounds simple, but it actually refers to a collection of recent developments in energy, mobility, technology, and healthcare to improve the lives of its citizens.
By integrating Information and Community Technology (ICT) to the network of devices within a city, the quality, performance, and interactivity of urban services are heightened, while costs and resources are simultaneously reduced. Berlin, in particular, has become a noteworthy example of how a true "Smart City" operates in the world.
There are six different intercorrelated dimensions when considering a city "Smart". These areas represent the main action fields to achieve the goal of a "Smart City": sustainability, efficiency, and quality of life.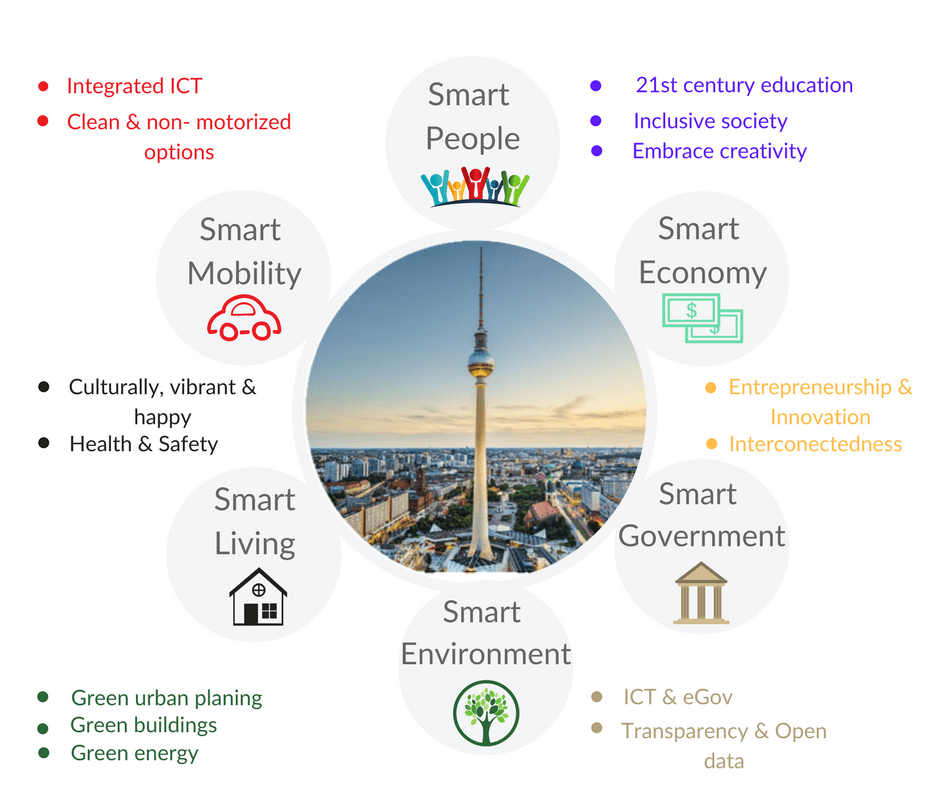 Not only is it important for a city to perform well within each sector, but it also needs proper intercorrelation between the different sectors.
For example, it is vital for a local government to commit to entrepreneurial education, but funding their innovative ideas will provide more citizens with benefits.
Even if there is room for improvements, Berlin is one of the highest ranked "Smart Cities". Berlin is a city of research & innovation, and a hub for startups to get ideas and boost their projects. The local government commits making Berlin smarter with its "Smart City Berlin" strategy, which, according to Berlin Partner, aims to increase the resource's efficiency and climate neutrality of Berlin by 2050 and create a pilot market for innovative applications.
According to the Smart City Berlin website:
"As a city with strong growth, Berlin requires networked, intelligent and holistic solutions to meet the challenges of the future. In global terms, Berlin may be ranked as a small metropolis, yet it offers optimal conditions for testing pilot strategies for solutions in clearly comprehensible and manageable structures, and scaling them for applications worldwide."
If you are interested in knowing more about Berlin as a "Smart City", here you can find more information
On October 24th, we attended and spoke at the exciting Smart City Berlin conference for Corporates and Startups, organized by NUMA Berlin.
The event aimed to explore the future's development toward a smart city in Berlin from several perspectives: how the digitalization of technologies will shape the administration of a city, how corporate solutions will improve various industries, and how startups will provide innovative and disruptive products for upgrading city life.
Some startups are even developing products to innovate the way a government operates to benefit both the government workers and the citizens. Products like this are helping cities like Berlin approach an era of e-governance – which is the digitalization of government processes in order to offer the state of Berlin enormous potential for more modern and productive services for orientation and citizenship within the public administration.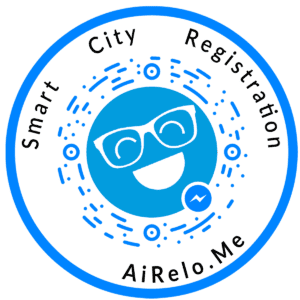 Enter AiRelo: a prime example of a small yet powerful tool for enhancing city administration and disrupting a previously unproductive model of registering an address. With AiRelo's simple, quick and easily accessible approach, it saves time, money, and resources when registering an address. Its artificial intelligence algorithm can also be adapted and utilized to assist with other tiresome administration tasks in a variety of other cities. It also collects data on the user so it can further assist them in future administration-related dilemmas.