AiRelo at Future of work of Zukunft Personal Europe 2018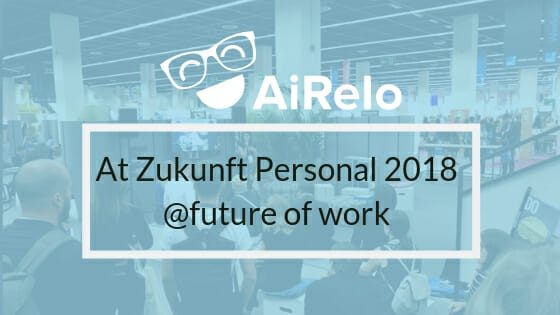 Zukunft Personal returned this year from 11th-13th September 2018 in Cologne, Germany – Europe's largest HR Management fair. GLOBAL's team was proud to participate for the second time and introduce AiRelo in the "Startup Village", a hub destinated especially for startups with digital solutions for companies.
Over the course of the three days, the focus was on innovative ideas and networking in the HR community with a spectrum of topics ranging from recruiting and personnel services to company training, leadership and employment law to personal software and the future of the working world.
Our team had the opportunity to demo AiRelo to worldwide HR leaders, decision-makers, and managers and to discuss how the future of HR is changing towards new technologies.
The next goal is to improve our technology to new users and help with all procedures of Onboarding employees, aiming to minimize the HR time-consuming process of dealing with relocation service providers or doing all the work by themselves. The future of work is all about technology and we're on the right path!
Check out below our awesome interviews with colleagues from the startup scene, and impressions of HR leaders about the event!
[TS_VCSC_Image_Full type="slideshow" slide_images="12621,12622,12623,12650,12649,12648,12657,12626,12625″ break_parents="2″ slide_mobile="show" slide_controls="false" slide_switch="2050″]
Impressions of the Zukunft Personal Europe 2018
Robindro and Manuela, HR Lifestyle Magazine
Stefan Scheller, HR Marketing Specialist
Jan-Eric Feldhaus, Sr. Marketing, @Monster
Sara, Country Manager, @tcp
Tobias Eppler, CBO, @HeyJobs
Anna Herzog, Head of Sales, @truffls
Mo Moubarak, Business Development, @MoBerries
Anna Kaiser, Founder and CEO, @Tandemploy
Matthias Wolf, COO@Co-Founder, @firstbird
Annika Pies, Customer Consultant, @TALENTS
Sven Elhardt, Account Executive, @recruitee
Wiebke Jonas, Project Manager, @compliant mobility
Aram Azimi, Project Development, @addon