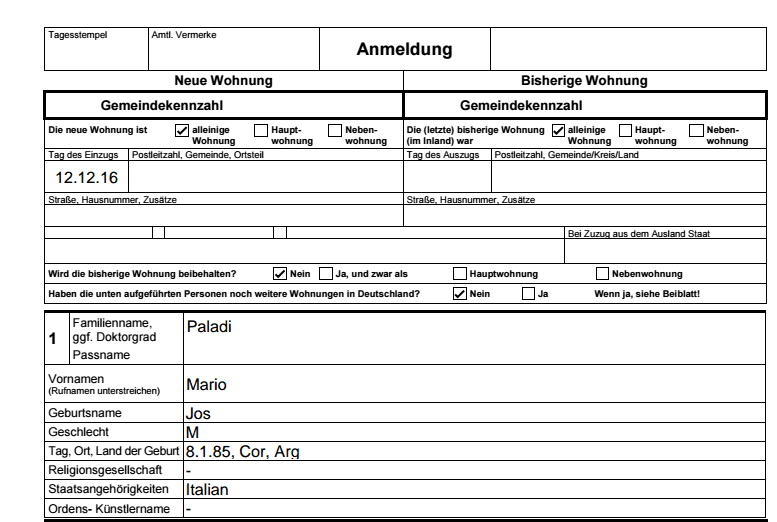 DIE ANMELDUNG (Registration) 
When you are moving to Berlin and plan to stay longer than 6 months in the city you are obliged to register yourself in the city, the so-called "Anmeldung". In some situations, you might have to do it even if you stay less than 6 months. The registration is simply crucial.  ''Die Anmeldung'' is an administrative burden, requiring loads of paperwork and if it is not planned carefully it can be very time-consuming. So how can you quickly go through this boring but mandatory process?
First of all, you need to know that luckily you can register in every "Bürgeramt" in any of the Berlin districts.
You can make an appointment by phone (155) or you can do it online. Try to avoid going to the "Bürgeramt" without an appointment,  as there is a very slim chance that you will receive an open slot and you might have to wait in line all day!
To be well prepared for your appointment make sure you bring your ID or Passport including Visas if required and your rental contract. If you have the right papers, this will be a quick one!
GET YOUR DOCUMENTS WITH US
So now that you know how to get your appointment let's focus on the papers. Unfortunately, the registration form is only available in German. To simplify your life and make your arrival a little more pleasant we at Club GLOBALS have an amazing solution for you. AiRelo! A chat bot on Facebook who helps you to create your own digital registration form that you will have to bring to the "Anmeldung" in Berlin.
Just search in your FB Messenger list for AiRelo and you will find a nice and friendly bot, who will help you with all the questions. The bot is multi-lingual, and answering the questions will take you only a few minutes. As a result, you will receive the documents via e-mail, completed in German, ready to bring to the Burgeramt.
ICH SPRECHE KEIN DEUTSCH?
A smart thing you can do before you go to the Bürgeramt is to learn some useful German sentences. For example '' Ich spreche kein Deutsch, sprechen Sie Englisch?'' -'' I do not speak German, do you speak English?'' the majority of the younger generations in Berlin speak very good English, if not fluent. Do not worry if the person at the Burgeramt doesn't speak any English. The people in Berlin are very kind, and there will always be someone to help you with translation.  We would, however, recommend bringing someone to the Bürgeramt who speaks German, as this is the best and easiest way to get everything done!
If you want to improve your German, the first step should be to attend some German language classes! You can take a look at the Berlasco Language School. Berlasco is very centrally located in Berlin. The school is also very flexible and always listening to the problems of their students.
MONEY
If you want to facilitate your money transfers for.e.g. paying the rent, health insurance, phone, then you should open a bank account in Berlin. Also, your employer will require a German bank account to pay your salary, because international transfers can be very expensive.
If you are looking for the right bank, you should check out  "Deutsche Bank" as they are very helpful and concerned with providing the best service for their customers. Another solution is  N26,  which is an online bank that allows you to open an account through your smartphone in only 8 minutes.
HEALTH INSURANCE
In Germany, you can either go for public or private health insurance. You have to know that it is required to be insured in Germany, just like a lot of other countries. When you are working in Germany and you are subject to social insurance contributions you need to select a health insurance provider, the so-called "Krankenkasse". Your employer pays half of your health insurance, the total amount of your health insurance fee depends on your income.
Once you have your insurance you can go to any doctor you want and need.
Take a look at "Kassenartzliche vereinigung Berlin". In their doctors' directory, you will find almost all doctors treating patients in Berlin – including information about their professional qualification. You can also use the advanced search with more search keywords, e.g. foreign languages.
TAXES
Germany is infamous for the giant tax law collection that can cause for obstacles not only for foreigners.
So let us give you some basics: the taxes you have to pay will be automatically deducted from your paycheque every month. Once you are employed you will receive you tax ID from fiscal authorities, the "Finanzamt". At the end of the year, the people will be able to declare their personal income situation and they might be able to recover some of the earlier paid taxes. Check out our solutioner page for legal and finance services. These businesses are very qualified to help you with your tax declaration, the so-called "Steuererklärung".