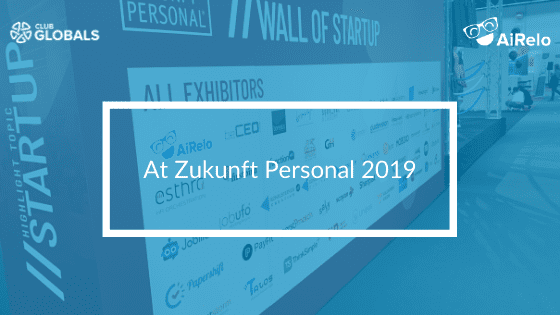 Zukunft Personal is the largest HR management fair. In 2019 it was back in Cologne, Germany from 15 to 17 September. The event was hosted at a beautiful location. The outside area got a view over the river and at sunset the view was amazing.
GLOBALS' team was proud to participate for the third time. And we brought AiRelo with us again to show it to HR leaders, decision-makers and managers and just like in 2018 we were gonna teach them all about 'Startup Village', a hub designed especially for startups with digital solutions for companies.
We had our own stand for 3 days, which was filled with information about AiRelo. Besides that, we were also giving away many exciting Airelo goodies, like our iconic green glasses. Stylish. There were also some other cool Stands at the event where we talked to interesting entrepreneurs.
Some people gave presentations which attracted a lot of attention. One of those people was our own Mario Paladini. He gave a presentation about Networking.
During our time at the event, we got the chance to interview people about their companies. This led to great conversations with great people. Fun photos were taken as well.
We're looking forward to next year's event!