AiRelo at Hiring Success 2018 !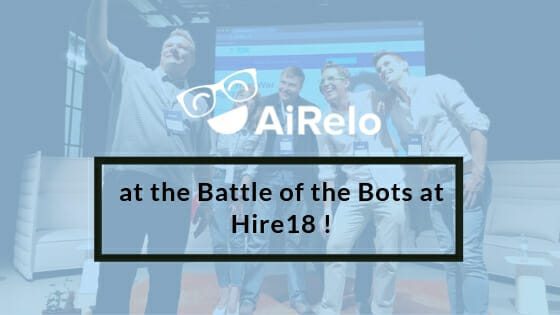 SmartRecruiters' latest Hiring Success conference, the first European edition, happened on days 20-21of September, at Glashaus by the Spree river, one of the coolest spots in Berlin. During the 2-days-event, more than 200 attendees had the chance to connect, learn the last trends on the HR world and enjoy the last days of summer breeze before Autumn kicks in.
The slogan "You are who you hire" could not have fit better. Among the sessions in 3 different stages, a lot was spoken on how to find the best talents to supply the high demand in the tech industry. Another essential topic covered was how technology has changed how companies work, specifically in the Human Resources field. The keynote speakers shared some of the most innovative recruiting campaigns ever put together, and led an interactive workshop challenging left-brain functions to raise the bar on workplace creativity.
Still in the HR innovative solutions topic, Mario Paladini represented AiRelo in the Battle of the Bots, along with founders of Irish Recruiter, Jobpal and XORBOT. Artificial Intelligence is definitely a hot topic to save time & resources in the present and future HR processes.
The companies below are already using the white-label version of AiRelo, and our team is proving support with our Welcome package, helping to relocate onboarding employees.
And since our mission is to make international life easier, we're spreading the word about a great initiative of our partners, Talent.io. Every Thursday they held a workshop for HRs and/or people interested in learning more about relocation, specially the EU Blue card visa.
Don't miss the opportunity to check it out!
[TS_VCSC_Image_Full type="slideshow" slide_images="12730,12732,12735,12737,12734,12740,12793″ slide_switch="2050″]