Living in Berlin
If you ask Google, how expensive it is to live in Berlin, it will answer that the prices are rising, especially for housing. But if we compare Berlin to other cities in Germany, some things are much cheaper. 
Germany is considered one of the cheapest countries in the world for grocery shopping. The monthly fee could be anywhere between 100 to 200 euros. But if you're not much of a cook yourself and prefer eating out, be prepared to spend up to 300 euros.
Transportation and mobile phone fees are also quite cheap if you're a student, rent prices range from 400 to 800 euros. The cost of rent depends on how big you want your apartment to be, as well as location. Sharing an apartment will cost you at least 400 euros and for bigger flats, the payment would be about 1500 euros. 
Where to rent?
Wondering where to rent in Berlin? We got you covered! Berlin is so diverse that it can make anyone feel at home. Whether you're a free spirit, hipster, party animal or prefer a quiet life to the party, Berlin can satisfy all your needs. 
If you like to be close to clubs, street food markets, and outdoor cinemas, Friedrichshain is a good choice. It's also great if you lead a vegan lifestyle and like dining outdoors. Kreuzberg also has good places for eating out, it's full of affordable street food, coffee shops, and squats. Neukölln too has quite a lot to offer, from cozy, dim-lit bars to independent shops, tattoo studios, and arthouse cinemas. 
If you'd like to find out more about other districts and which one is most suited for you, our housing Advisor Vincent from Berlin and Ignacio from Barcelona would be more than happy to help you. Find out more about them!
You can also visit Wunderflats and choose which furnished apartment to rent based on location, price range, and a number of rooms. More options to find apartments furnished or unfurnished are wg-gesucht.de, immonet.de, immobilienscout24.de, GLOBALS Homes, and eBay Kleinanzeigen. Do not forget to consider some Housing Companies like immobilo.de and Deutsche Wohnen.
Once you choose the location and are ready to move in, it's time to cozy up the place. For interior design solutions, Houzz is an excellent platform to provide you with the best professionals for interior designs. However, product providers and different kinds of professionals related to finding and making your perfect home. 
When it comes to furniture, you'll find the most affordable and stylish pieces at Ikea. For sure, you would like to give your house your personal touch in colors, walls, or even make it more friendly and accessible. All that you need you can find it in Aroundhome and hagebau.de.
Electronic supplies are best bought from Mediamarkt, Saturn, Amazon, or Ebay.
Where to buy?
When planning on buying a flat in Berlin, be sure to check out ImmoScout24. They offer different types of real estate properties, from flats and houses to office spaces and garages. 
We would also suggest checking out our GLOBALS Homes. Here you can find a variety of available properties. Also, request or list a property that you're trying to rent or sell. One of our previous blogs could give you useful information about buying decision: What to consider when buying an apartment in Berlin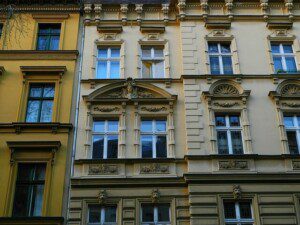 Image by Karl Herl from Pixbay
Housing insurances
Housing insurance is also an important aspect to keep in mind. Generally in Berlin and Germany , every object you have in your apartment is considered a household good. Therefore is covered by house insurance. And, it covers damages from fire, water, storm, burglary, and vandalism. We would like to recommend you Arag.de and Tarifcheck.de  where you can find a variety of insurances not exclusive for the property.
Berlin event
Be sure not to miss out on our Globals event: The Future of Housing and Living on the 20th of August. The panel discussions will cover an introduction to what you need to know about the real estate in Berlin. You'll learn about the current trends in real estate and innovation in post-corona times. 
See you there!