03nov9:00 am5:00 pmClub GLOBALS @ Web SummitWhere the Tech World Meets9:00 am - 5:00 pm Royal Dublin Society (RDS), Royal Dublin Society, Ballsbridge, Dublin 4, Ireland.
Event Details

Event Report

For second time we went to Dublin and we can't regret it. Each year is getting better. This kind of event are the one which inspire us, because of its magnitude, organization and the memories afterwards.

As them we believe that, " if you build a product people want and like, chances are word will spread, and you'll start to grow. " said Paddy Cosgrave. This motto is part of Startup Connect Berlin, our biggest event, taking place on 9th of December in Berlin, for the second time! 2015 edition is looking good! Want to join? More info here: http://bit.ly/SCB_15

Find next a glance of this year experiences!
Looking forward for Lisbon next year 8)

[TS_VCSC_Lightbox_Gallery content_images="7597,7596,7594,7590,7589,7588,7591,7587,7585,7586,7583,7578″ lightbox_size="large" content_title="Club Globals at Web Summit 2015″ el_file2=""][/TS_VCSC_Lightbox_Gallery]
Lets meet where the Tech World Meets - Web Summit
They say they organise the world's best tech conferences and we are going to be there!
THE FIRST DAY of the Event we'll have 2 places to meet you: Machine Area, Stand M158 and ALL DAYS we'll be at Hall 4, Stand: M806.
2015 is the 4th year that the Web Summit is happening, it has become one of the world's most influential and international tech events. This year Web Summit will showcase over 500 world-renowned speakers, 10 stages including the Digital Marketing, Internet of Things, Enterprise, and Builders Summits, 2,000 worldwide startups invited to exhibit their ideas, 200+ satellite events, 1,000 experienced investors, and 800 of the best tech journalists. For three days this November, Dublin will once again become the international tech capital.
Web Summit takes place in various venues across the city of Dublin, Ireland. The main conference venue is the Royal Dublin Society (RDS), Ballsbridge, Dublin 4, Ireland.
The Biggest event in Europe of its kind
2015 at a glance
30,000+

ATTENDEES
100+

COUNTRIES
700

SPEAKERS
1500

JOURNALISTS
This year Web Summit will host over 1,000 speakers including the world's leading founders, investors, CEOs, inventors, designers and thinkers.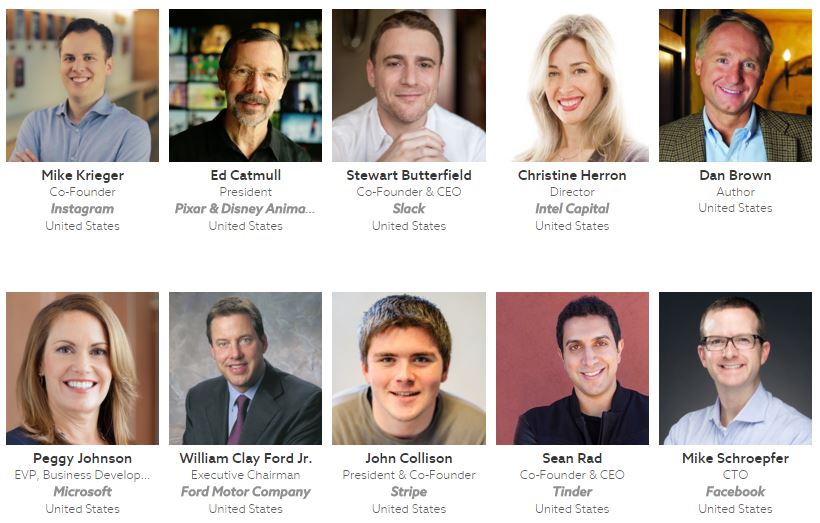 Our CEO Mario Paladini is among the featured Attendees this Year!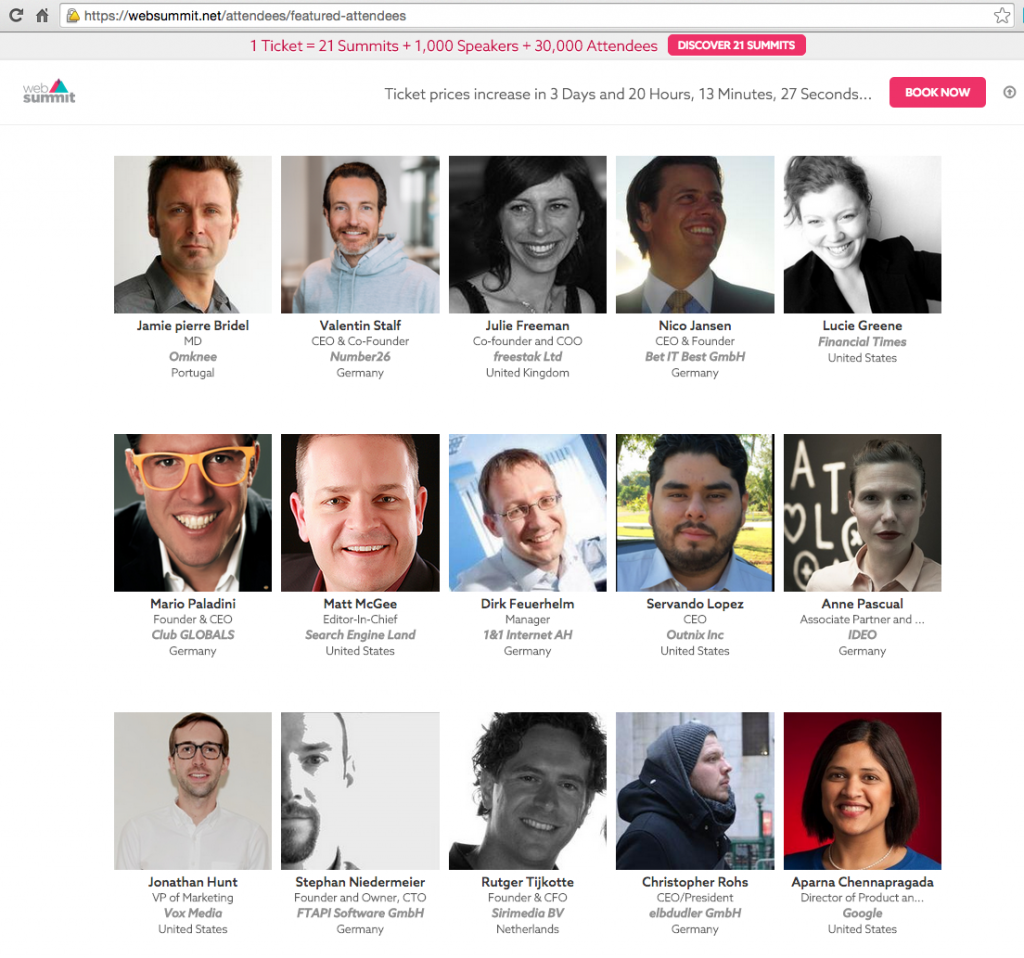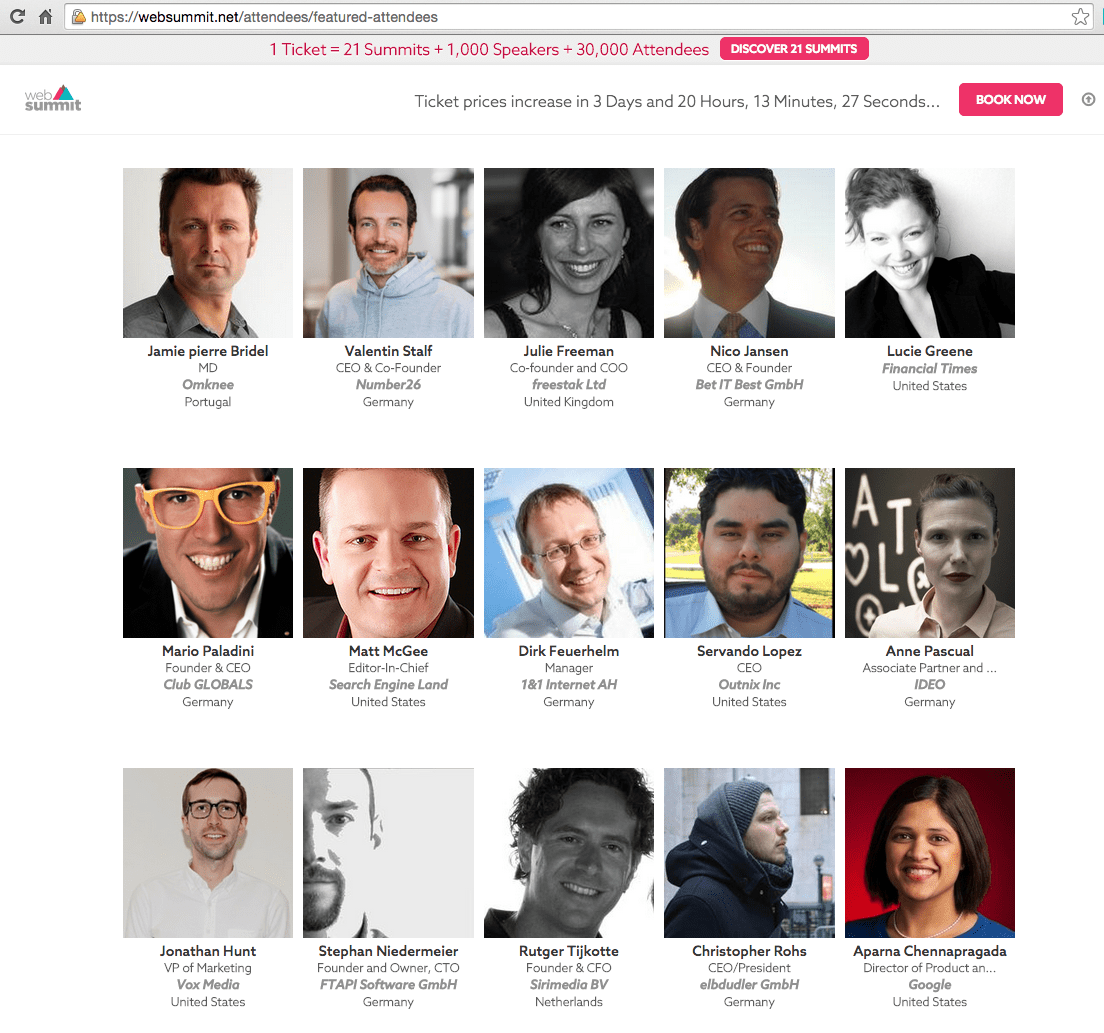 Our next biggest event is happening soon!
"Start Up Connect Berlin" will take place on 9th December 2015, at IHK Berlin!
Time

(Tuesday) 9:00 am - 5:00 pm
Location

Royal Dublin Society (RDS)

Royal Dublin Society, Ballsbridge, Dublin 4, Ireland.